Monday - Saturday 11am-7:30pm Sunday 12pm-6pm
Next time you're visiting the Palladio, come check out the neighborhood's new favorite mattress store: Sleep First!
We're located in one of the most beautiful shopping areas in Sacramento, in the Palladio conveniently near the parking garage! You can find us right in front of Kirklands and Whole Foods. If you get lost, just follow your nose to Noah's Bagels...we're right next door!
Here at Sleep First Folsom, we offer the same amazing deals as huge mattress chains, but as a proudly locally owned and operated business. So unlike other mattress stores, our first priority is serving the local Folsom community, not boosting our bottom line-- and it shows in how we treat each and every person who walks through our door.
Our love for the Folsom community runs deep, and our customers know that each purchase made here at Sleep First Folsom directly supports the local economy. And we want to return the favor! As a local shopper, we invite you to bring in your receipt from Whole Foods for an additional savings of up to $300 off your purchase!
Our Sleep First Folsom sales staff love the community they work in, and understand your need for a pressure-free shopping experience. We treat everyone who comes in like a friend, in a completely pressure-free zone. We're committed to listening to you and hearing your needs.
We're pleased to be able to stock both trendy online and traditional retail mattress brands in our store-- and at the best prices around, too. Whether you're interested in popular online brands like the Nectar mattress, or tried-and-true traditional brands like Tempur-Pedic, you'll find them here.  
We offer the popular Nectar Mattress at a competitive price and throw in 2 free pillows. We have adjustable bases available for some of the lowest prices around— just $577 for a Queen size set. We often run special web-only deals-- just message us for the coupon code!
We're dedicated to helping you find the mattress that perfectly fits your needs, rather than pressuring you into buying something you don't even want. At Sleep First Folsom, we're here to listen to you and guide you towards the best sleep solutions for the best possible price. In fact, you can sleep that much better thanks to our price match guarantee— if our price isn't already lower, we'll happily match any competitor's advertised price! If you're not completely in love with your new mattress, no worries there either because you have a whole 365 days to exchange it! That's 245 days longer than other mattress stores who offer 120 day exchange policies.
We're also home of the 20 Year Warranty on any Tempur-Pedic® mattress! Here's how it works: the first 10 years of the warranty are covered directly by Tempur-Pedic® themselves. After that, Sleep First offers you an EXTRA TEN YEARS covered directly by ServeCo, a global leader serving huge companies and their customers for more than three decades. That means no matter what happens, you're covered and can sleep soundly knowing that your investment is comfortable and protected.
And because we truly care about your experience from start to finish, we make it easy for you to get your new mattress home, too! We're pleased to offer free, fast home delivery— and to make it even easier, we also have mattress setup and haul away available.
Still figuring out if a new mattress is even something you're looking for? Check out this article on how to know if it's time to replace your mattress. Know you need a mattress upgrade, but aren't sure where to start? Here's a guide all about how to shop for a mattress and what questions to ask when mattress shopping.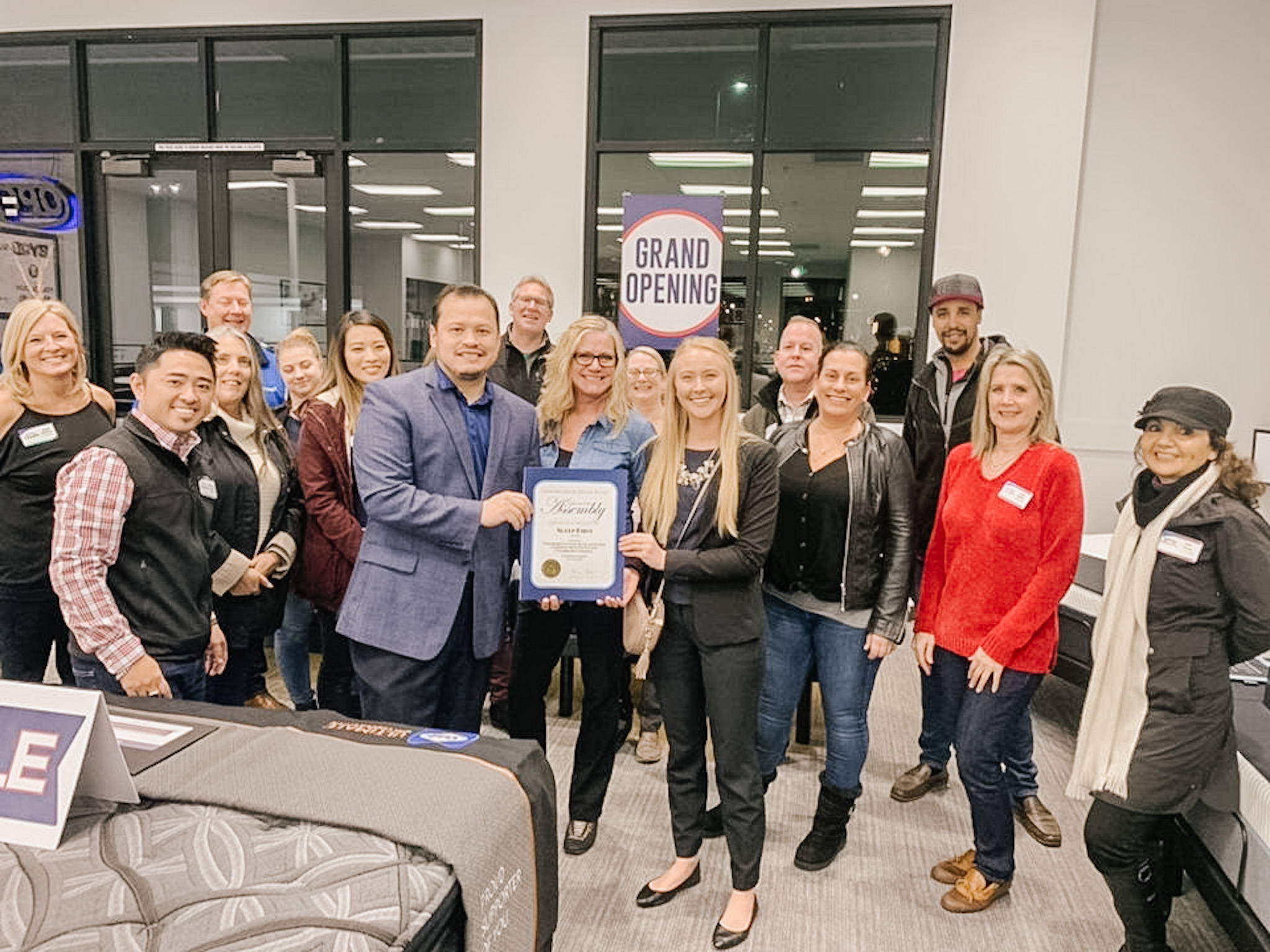 There's a huge mattress sale happening at Sleep First in Folsom!
Celebrate our newest location in Folsom next time you're visiting the Palladio! We've got all the top names in mattresses, including traditional brands like Tempur-Pedic® & Sealy, as well as popular online beds like The Nectar Mattress.
Sleep First's Folsom mattress store is locally owned & operated!
Folsom is our newest mattress marketplace in the one of the most beautiful shopping areas in Sacramento. We're the only mattress store in Folsom with a 20 year warranty on Tempur-Pedic®*. This boutique location features the full line of Tempur-Pedic® beds, best-selling Stearns & Fosters, Sealy, and our house brand, Beds To Go, which are guaranteed in-stock for you to take home. You'll find us in The Palladio (right next to the parking garage) in front of Kirklands and WholeFoods. Just follow the smell of Noah's Bagels, located right next door to us. We are at the corner of Via Sole and Iron Point. See you soon!
We are locally owned & staffed by people who love the communities they work in. High level, no-pressure sales staff who focus on fitting our guest with the best possible solutions at the best price.
Our mattress store understands your need for a zero-pressure shopping experience. We specialize in serving our customers' needs instead of forcing something you don't need. Unlike our competition - WE LISTEN, and we promise to find the right bed for you.
*10 years from Tempur-Pedic® + 10 years trusted 3rd party.